The European Bioeconomy University (EBU) Alliance
March 23 2022
AgroParisTech has joined forces with five prestigious European universities to create the "European Bioeconomy University" (EBU) alliance, the aim of which is to bolster cooperation among these institutions in the areas of teaching and research and offer solutions to the challenges associated with the expansion of the global bioeconomy.
A framework agreement formalizing the creation of the alliance was signed in Brussels on July 3, 2019, in the presence of Gilles Trystram, Managing Director of AgroParisTech, and the presidents and rectors of the five partner universities. The purpose of this international alliance was to further stimulate cooperation between its six members—already partners on a number of research, education, and innovation projects—and contribute to achieving a more sustainable and competitive Europe that is more efficient in its use of resources.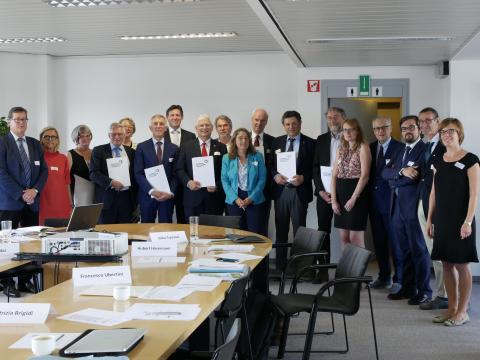 This alliance aims to offer solutions to the challenges posed by the European bioeconomy. Bioeconomics is a significant area of activity for AgroParisTech, which, in addition to its activities within the EBU, has continued to pursue its preexisting projects and partnerships in the field.
Since the EBU's creation, the following activities have undertaken:
A governance structure and working groups have been put into place; 

The alliance's first (Virtual) Scientific Forum was held in September 2021, attended by 312 participants and 65 speakers in 8 parallel sessions, 2 plenary sessions, and 3 workshops; 

The alliance's first (virtual) themed workshop was held on the topic of foresight in June 2021. Other workshops are planned for 2022; 

The workshop "How to Shape Education for a Sustainable Circular Bioeconomy" was held as part of the Global Bioeconomy Summit 2020;

EBU was invited to participate in several European events, such as the European Research and Innovation Days 2021 and the workshop "Promoting Education, Training, and Skills Across the EU Bioeconomy";

EBU published 4 joint position/opinion papers;

A framework agreement for joint thesis supervision was signed;

An internal postdoctoral fellowship call was issued for young EBU researchers: EBUPostDocNet;

A collaborative strategy for the alliance was determined, resulting in the signature of partnership agreements.