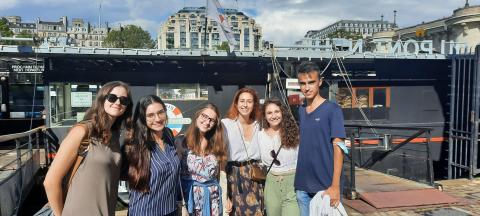 Come to AgroParisTech With an Exchange Program
Every year, AgroParisTech hosts students on study or internship exchange programs (including through the Erasmus+ program) through nearly 200 partnership agreements around the world.  
Students studying abroad as part of an exchange program can be hosted for a semester or a full year:
In the second year of the engineering program (equivalent to the first year of master's studies);  

In the third year of the engineering program (equivalent to the second year of master's studies);  

In the first year of a master's program;

In the second year of a master's program. 
How can you choose your classes for an exchange program at AgroParisTech?
Choosing an international engineering master's pdf 451.01 KB
Students can study at AgroParisTech: 
in the first semester (September-February); 

in the second semester (February-June); 

for the full year (September-June). 
1 semester = 30 ECTS 
1 year = 60 ECTS 
Students must complete and finalize their application online:
https://docs.google.com/forms/d/e/1FAIpQLSfPUVRXSX5691HZUryyHkC-ql1J1weI0Oo8cSWAze5MU5F8Lg/viewform?usp=sf_link
and email all relevant documents before:  
 April 15 for the 1st semester (September to February) or for the full year;
 October 1 for the 2nd semester (February to June).
Admissions decisions are taken in May/June for the 1st semester or for the full year and in October/November for the 2nd semester.  
The following conditions must be met:  
The student must be presented by their home institution in accordance with signed partnership agreements (a letter of nomination signed and stamped by your university must be sent); 

 Sufficient level in French: B1 minimum, B2 recommended; 
 Proposed course of study at AgroParisTech approved by the home university; 

 The student's application must be approved by the director of the program at AgroParisTech; 

 Space must still be available in classes. 
Once admitted, the student must sign a Learning Agreement and agree to comply with it. AgroParisTech may be forced to change or cancel some classes; if this occurs, students will then have to change their class selection by completing the document entitled "Changes to the Learning Agreement." 
AgroParisTech does not guarantee accommodation for students, but rooms can be reserved in one of our dormitories subject to availability (complete the request for accommodation (demande de logement) form in the application pack). 
Documents to be attached with the application must be emailed to: incomers@agroparistech.fr.
International letter of nomination template 2022-2023 docx 36.77 KB
 A resume detailing your academic background. For each degree, give the university, the field of study (major), and the date on which the degree was obtained.  
 A cover letter: Why would you like to study engineering at AgroParisTech in France? It is very important to prepare this letter carefully, emphasizing the reason you have chosen the specific program you would like to study in.

 Transcripts for the last 2 semesters of study translated into French or English and mentioning any academic distinctions or honors (bearing a signature and university stamp).

 Proof of your proficiency in French and your level of fluency (French test result or letter from your French professor certifying your level on the CEFR scale from A1 to C2. Download the language assessment chart here).
International language evaluation chart pdf 185.09 KB
 A copy of your identity card or a valid passport.  
 Proof of health insurance (e.g. the S1 form, European health insurance card, or private insurance) to be furnished upon arrival.  

 Complete the class selection questionnaire: https://forms.gle/dr1U7hr82WB3EPa48 (only for the 2nd year of the engineering program). 
international learning agreement doc 47 KB
Only for students not studying abroad through the Erasmus+ program.