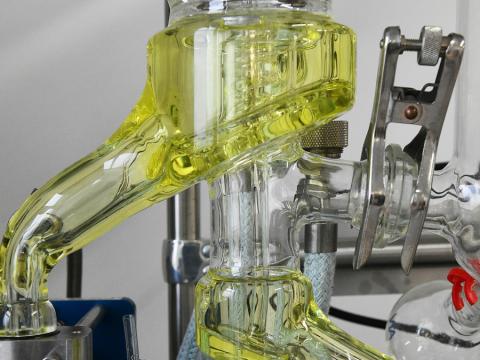 Innovation
Innovation and Technology Transfer
June 27 2022
The high-level research conducted by our scientific staff and Ph.D. students offers a unique environment for fostering innovation. Likewise, innovative projects frequently offer major scientific challenges for research, along with complementary means for conducting it. 
Due to AgroParisTech's presence across several locations, its innovation and technology transfer strategy is multifaceted and expressed differently from one site and local ecosystem to the next. Consequently, for the past several years, the institution has considerably enriched and consolidated its integration in territorial ecosystems for innovation on a local, national, and international level. In line with the French Ministry of Higher Education, Research, and Innovation's innovation plan launched in 2018, this strategy hinges on three principles: accelerating entrepreneurship, intensifying interaction between public research and private companies, and structuring the promotion of research around AgroParisTech. 
A twofold Objective for Optimal Innovation and Transfer
AgroParisTech's innovation and technology transfer policy aims to:  
strike a balance between the institution's mission of general interest and the need to create economic value and protect the interests of the authors of intellectual property (senior scientific staff, students, and AgroParisTech personnel);
enable control to be retained over the entire innovation process from A to Z (i.e. from the laboratory phase to potential transfers to industrial applications), and allow expertise to be transferred to students by creating specific new teaching modules. 
An Action Plan to Address These Challenges
To meet these objectives, AgroParisTech has established an action plan organized around several aims:  
stimulating innovation in AgroParisTech's scientific fields, including by taking advantage of InnLabs (its internal network of incubators); 
supporting the transfer of research into the socio-economic world and facilitating the transition from inventions to innovations; 
helping set up innovative projects and negotiate operating licenses or partnerships with private partners and municipalities; 
establishing tools to detect innovation in laboratories, promote, transfer, and manage intellectual property (IP), monitor contractual activities, and train various institutional stakeholders regarding these issues; 
protecting the interests of staff and students engaged in innovation or transfer activities; 
enhancing the institution's visibility by becoming a focal point for partners in innovation and transfer activities (competitiveness and other clusters, Carnot institutes, Technology Transfer Corporations (SATTs), incubators, accelerators, funders, etc.); 
encouraging entrepreneurship in all forms (students, Ph.D. students, faculty and research staff, etc.), including by coordinating the "Itinéraire Entrepreneuriat" (Path to Entrepreneurship) program and organizing its evaluation committees. 
Better Resources and Organization
This action plan is supported and implemented by the Innovation and Technology Transfer cluster, created within the Research, Innovation, and Technology Transfer Department, in close collaboration with AgroParisTech Innovation, a chartered AgroParisTech research structure. Through its interaction with many internal services and tools and thanks to its knowledge of the ecosystem and its role as an interface with external resources and mechanisms, the Innovation and Technology Transfer cluster is at the crossroads and at the heart of AgroParisTech's partner ecosystem. It mobilizes the internal and external tools and mechanisms needed to generate visibility, create value, and innovate. 
Key Innovation and Transfer Figures at AgroParisTech
More than 250 public and private partners contributed to the institution's activities in 2021 (education, business forums, contractual research, or consulting activities); 
70 to 100 research contracts are signed yearly, both with private partners and as part of public funding projects; 
€7.5 million in contractual revenues in 2021, including 40% from projects with private partners; 
More than 30 patents from research originating in AgroParisTech research units were registered between 2012 and 2021, of which 16 were directly managed by AgroParisTech (2 in 2021); 
More than 80 projects have received an award as part of the "Itinéraire Entrepreneuriat" (Path to Entrepreneurship) program, and more than 300 students have taken part in it since its launch in 2016;  
More than 100 startups launched since 2015, including 15 in 2021; 
45 startups have received support from Food'InnLab (Palaiseau) since 2017; 
12 startups or companies have received support from Farm'InnLab (Grignon) since 2017; 
Creation of Territoires'InnLab (Clermont-Ferrand) in 2019; 
Creation of Forest'InnLab (Nancy) in 2020.