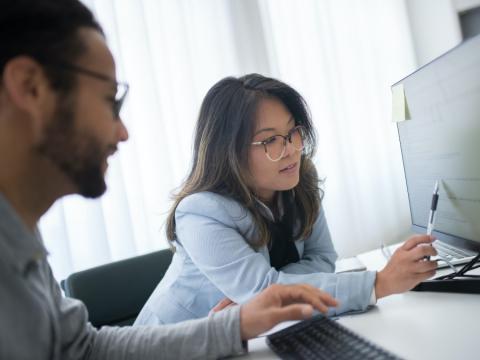 Research
Doctoral support
February 11 2022
Doctoral degrees are at the interface between research and training. Doctoral candidates are already young researchers requiring guidance as they learn to navigate research (through conducting research and training) and prepare for their career. Such is the role of supervisors. 
Doctoral support at AgroParisTech
One hundred or so AgroParisTech scientific staff are authorized to supervise research (HDR) and be official doctoral advisors. About thirty theses are defended yearly; they are supervised or co-supervised by a member of the college's scientific staff. AgroParisTech encourages scientific staff to participate in supporting theses, whether or not they are authorized to supervise research. 
Funding theses at AgroParisTech
Every year, AgroParisTech funds at least seven doctoral contracts granted as part of postgraduate college competitions for which our school is co-accredited. 
Several other doctoral contracts are also funded and supported by AgroParisTech or by its chartered research institution, AgroParisTech Innovation, through regional or national funds (Agence Nationale pour la Recherche, including through research projects, LABEX and convergence institutes), and international funds (including European funding) received by AgroParisTech's scientific staff, and as part of the school's partnership chairs. 
Training for doctoral candidates
AgroParisTech is accredited for doctoral studies and delivers doctoral degrees for three postgraduate colleges. It offers many study programs and organizes events for doctoral candidates and doctors. 
In addition to their supervisory participation, scientific staff and colleagues from research units under the tutelage of AgroParisTech contribute to creating and implementing programs and events (such as summer schools) for doctoral candidates. These programs can be technical (centered on a given method) or more generic (statistical, modeling, or thesis writing training, for example). 
Contacts
SIReNa (Natural Resource Sciences and Engineering) postgraduate college
AgroParisTech Nancy Center
France
GAIA postgraduate college (Biodiversity, Agriculture, Food, Environment, Soil, Water)
AgroParisTech Nancy Center
France