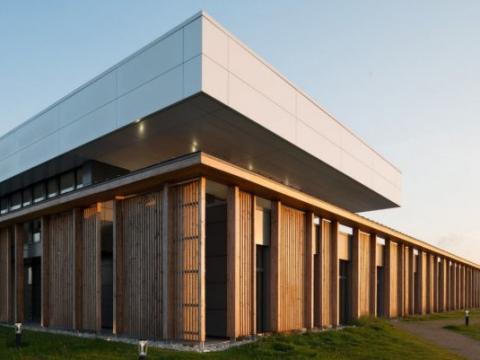 Reims Campus – The Industrial Agro-Biotechnologies R&D Unit
February 11 2022
Established in 2012 at the initiative of three local and regional government entities—the Greater Reims Area, the Marne Department, and the Grand Est Region—the Industrial Agro-Biotechnologies R&D Unit focuses on leveraging agricultural products and byproducts to produce compounds that offer substantial added value through an interdisciplinary approach combining biotechnologies, green chemistry, and separation process engineering. Located on the Bazancourt-Pomacle biorefinery site at the European Center for Biotechnology and Bioeconomy (CEBB) alongside its partners from the University of Reims Champagne-Ardenne, CentraleSupélec, and Neoma Business School, the R&D Unit conducts research in the fields of crop health, biopolymers and biomaterials, specialty and fine chemicals, and functional and active ingredients for the cosmetics industry.
Director: Dr. Florent Allais 

Assistant Director: Kévin Magnien 

Address: Centre Européen de Biotechnologie et de Bioéconomie, 3, rue des Rouges Terres, 51110 Pomacle 

Telephone: +33 (0)3 52 62 04 62 

Hours: 7 A.M. to 7 P.M.
Research – Joint Research Units and Research Laboratories Present on the Campus
Biotechnology Division:
Liquid-state fermentation

Solid-state fermentation

Molecular biology

Production/extraction coupling
Green Chemistry Division: 
Enzyme catalysis

Polymer chemistry

Organic chemistry

Multistep synthesis

Phenol chemistry

Sugar chemistry
Process Engineering Division
Eco-extraction: supercritical CO2, microwaves, ultrasound 

Membrane technology (micro, ultra, nanofiltration, membrane contactors)

Process intensification

Integrated processes
Chromatography
Specific Tools and Equipment on the Site
1 to 20-liter liquid-state fermentors 

Flow Cymometer 

qPCR 

AktaStart 

Membrane contactor 

Filtration pilots from 500 mL to 15 liters 

Supercritical CO2 extraction pilot 

Membrane bioreactor 

Ultrasonic reactor 

Microwave reactor 

Photoreactor 

Molecular distiller 

5- and 10-liter chemical reactors 

HPLC/UHPLC liquid chromatography (RI, UV/DAD, ELSD, MS, MS2-QToF) – Quadruple detection size exclusion chromatography (RI, viscometer, UV, MALS) 

Gas chromatography (mass spectrometry) 

1H & 13C NMR (1D/2D), 1H/31P benchtop NMR (1D/2D) 

Flash chromatography (UV-vis, MS, ELSD)

TLC/MS

FTIR – UV 

DSC – TGA