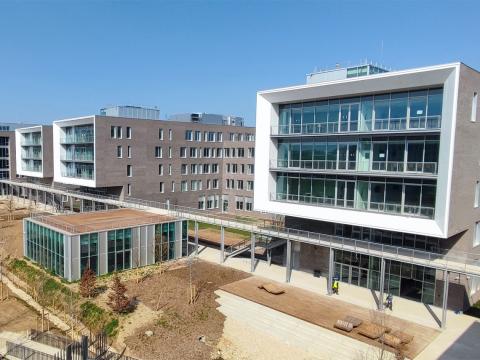 Campuses
Agro Paris-Saclay Campus
June 27 2022
The Agro Paris-Saclay campus is composed of eight buildings totaling 710,000 sq. ft., surrounding a five-acre wooded park. It offers the two partner institutions (AgroParisTech and INRAE) a site at the heart of the Paris-Saclay University ecosystem. A symbol of AgroParisTech and INRAE's substantial involvement in the organization of major university campuses in France, the new Agro Paris-Saclay campus will serve to enhance the international visibility of this world-class university consortium. Dedicated to promoting high-caliber research, education, and innovation in the areas of life and environmental science and industry, this campus offers world-class tools for scientific research paired with teaching facilities on international renown. 
A third of the space is allocated to research laboratories (experimental greenhouses, growth chambers, a technology hall, and a food area), and another third to teaching (including two large lecture halls with 400 seats and four with 150 seats). The remainder of the space is devoted to administrative offices and logistics, in addition to communal spaces for university life and student activities. The complex is spread out over eight buildings; nearly five acres are occupied by a large wooded garden. The forum, which serves as the entrance to the complex, is composed of a large glass canopy that calls to mind the design of experimental greenhouses. Constructed in glass and completely transparent, the forum reflects the campus' openness to its neighborhood and the large public square that EPA Paris-Saclay has placed at its entrance: the Place de l'Agronomie. Five classroom buildings and two large research buildings stand around the large open garden, which is crossed by the central road that structures the neighborhood's spaces. 
In total, the campus houses 2,000 students and 1,350 faculty members, researchers, technicians, and administrative personnel from AgroParisTech and INRAE.
The Agro Paris-Saclay campus is a historic step for AgroParisTech. By bringing together its four Greater Paris sites in a single place, which houses the institution's headquarters, the synergies between teaching, research, innovation, and student life will increase significantly. The new campus also strengthens ties between students in different years and majors, as well as between scientific disciplines and specialties covered by AgroParisTech and INRAE. In all, nine of INRAE's highly specialized research units on agroecological and food transitions – close to 300 staff members – are present on site. The population of AgroParisTech and INRAE alone account for almost 12% of Paris-Saclay University.
Campus Director: Olivier Martin
Address: 22 place de l'Agronomie — CS 20040 - 91123 Palaiseau Cedex, France
Tel.: +33 (0)1 89 10 00 00
Campus schedule and access: from Monday to Friday, 7:30 a.m. to 8 p.m.
Research – Joint Research Units and Research Laboratories Present on the Campus
SayFood
mosar
pnca
MIA Paris
ALISS
ECOPUB
ECOSYS
BIOGER
AGRONOMY
SADAPT
ECO INNOV