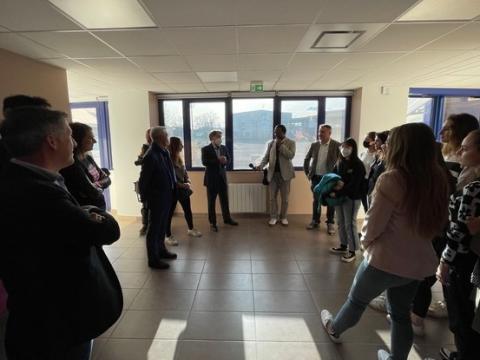 Education
The Orléans Branch Campus Welcomes its First Students
March 23 2022
A brand new building has been made available to AgroParisTech by the city of Orléans on the Orléans-La-Source campus which, as of Monday, March 21, 2022, has hosted approximately fifteen second-year engineering students, all studying the interactive "Management of innovation in cosmetics" module. This is the first group to use AgroParisTech's branch campus in Orléans, which should host around a hundred students by 2027.
With its Orléans branch, AgroParisTech's aim is to be as close as possible to businesses in the cosmetic sector and to carry out ambitious projects that meet the criteria of major French and European calls for projects. Beginning in September 2022, a third-year engineering major will be offered in Sustainable Cosmetic Design, Production, and Use (Cosm'Ethique). According to Eric Spinnler, a faculty member involved in the major: "This major aims to satisfy demand from businesses for skills in the areas of biosourced materials and corporate social responsibility.For AgroParisTech, it was crucial to position this program at the heart of our industrial community and as close to Cosmetic Valley as possible to get students ready for their first roles in companies."
Teaching and research activities in Orléans are organized around the AgroParisTech Cosmetology Research Chair, which is supported by private benefactors, the AgroParisTech Foundation, and the Shiseido group. The Chair's management is coordinated by AgroParisTech Innovation. Its aims include strengthening local research and education in cosmetology, fostering growth in the cosmetics industry by producing world-class skills and expertise, speeding up innovation transfer between the Chair and the private sector, and positioning the Orléans region as a global leader in cosmetics.