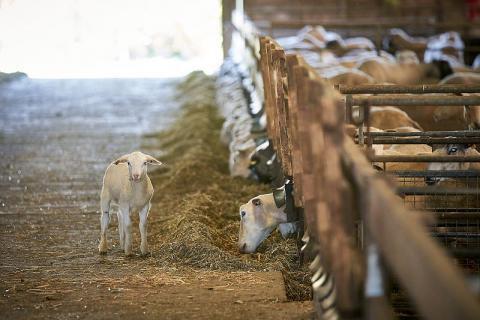 The Grignon Experimental Farm
June 13 2022
Agricultural innovation plays an important role in the activities conducted on this site, which is home to a number of experiments, ranging from zootechnical research (measuring how different feed affects methane volumes belched by cows) to agronomical experiments (nitrous oxide measurements) and precision agriculture trials (accurate spraying using cameras or artificial intelligence algorithms).
The farm also hosts Farm'InnLab, a unique collaborative space devoted to farming issues in which new interactions are created to enrich education and research.
The farm also researches cropping system performance to achieve more sustainable solutions, and in 2017, launched the experimental Trajectoire platform, in partnership with institutional, agricultural, and scientific stakeholders. Seven cropping systems were selected for the platform and developed across a 10-hectare (25-acre) plot for at least five years. Specific equipment is used to measure nitrate and active ingredient flows that leach into the aquifer, along with greenhouse gas emissions from soil.
Open to the public, the Grignon Experimental Farm also features a strong educational component. It is home to a point of sale run by a consortium of agricultural education institutions that offers visitors an opportunity to purchase products produced directly on the farm and by French agricultural colleges and high schools.
Route de la Ferme, 78850 Thiverval-Grignon
Telephone: +33 (0)1 30 54 37 34
Director: Dominique Tristant
Head of Visitor Services and Communications: Sandie Fouquet
Hours: every day from 10 a.m. to 6 p.m.
Specific Tools and Equipment on the Site
400 hectares (~1,000 acres) of crops: 200 hectares (~500 acres) devoted to cash crops (wheat, malting barley, rapeseed) and another 200 hectares (~500 acres) devoted to livestock feed
A herd of 200 Prim'Holstein dairy cows
A herd of 600 milking Berrichon du Cher and Romane sheep
A methane recovery system: the Nénufar project
A biogas plant under construction
A dairy farm