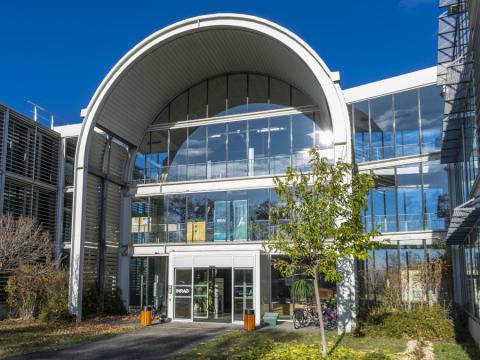 Clermont-Ferrand Campus
February 11 2022
The Clermont-Ferrand campus is dedicated to teaching and research in the field of territorial development, support for public territorial engineering activities, and territorial transition policies.
The faculty and research staff work within the DLAT (Local Development and Territorial Planning) teaching and research department, a subcomponent of the Department of Economic, Social and Management Sciences (SESG). All are members of the Territoires UMR (joint research unit) and produce research in the humanities and social sciences that combine political science, economics, management science, and geography. 
The campus is also home to the "Territorial Engineering and Sustainable Territorial Development" Executive Unit, which offers continuing education programs that range from short themed classes and modules to full career-oriented educational programs, including a Specialized Master's Degree. Specialized training engineers also help to craft custom-tailored training programs for institutions, governments, and corporations. 
The Clermont-Ferrand campus is also home to the InterActions Partnership Chair, which operates under the auspices of the AgroParisTech Foundation. It conducts research on territorial transition policies with numerous founding research partners (the Regional Natural Park Federation, RESOLIS, CITA, Fondation Avril, Le Rameau) and others who commission the chair to conduct action research (ANCT Massif Central, Fermes de Figeac, regional natural parks, etc.). 
It is also home to an InnLab that is specifically dedicated to territorial issues. In association with the University of Clermont-Auvergne's Pépites student entrepreneurship center, this InnLab offers support to campus students in fields associated with territorial innovation. 
It coordinates an interdisciplinary interprofessional group, the Territorial Professionals Network (Réseau des Praticiens Territoriaux), which works to establish dialogue on key issues associated with territorial initiatives and the development of public policies and strategies for collaboration between the public and private sectors and between academia and territorial stakeholders.
AgroParisTech – Campus de Clermont-Ferrand, 9, avenue Blaise Pascal, CS 70054, 63178 Aubière Cedex  

+33 (04) 73 44 06 00 

Campus Director: Laurent Lelli 

Executive assistant: Mélanie Chanteux 

The campus is open from 6:30 A.M. to 7:30 P.M. for staff with badges.

The reception desk is open to the public from 8:30 A.M. to 6:30 P.M.
Since January 1, 2021, the AgroParisTech Clermont-Ferrand campus has been an associate member of the University of Clermont-Auvergne's Experimental Public Institution (EPI)—which is home to Clermont-Ferrand's community of research and education institutions. It serves as a member of the EPI's Council of Associate Members.
A university partner of the University of Clermont-Auvergne Geography Department for the LLSHS Institute's jointly accredited GTDL Master's Program (http://www2.agroparistech.fr/-Mention-GTDL-Clermont-Ferrand-.html), the Clermont-Ferrand campus also engages in numerous joint projects with the Auvergne-Rhône-Alpes Institute of Territorial Development (IADT) through partnerships with Vetagro Sup and the National School of Architecture of Clermont-Ferrand.
It is also regularly involved in many partnerships vis-à-vis its research and teaching activities with local government stakeholders in the Massif Central region, including the Puy-de-Dôme Department Council, various intermunicipal government bodies, and regional natural parks.
The fields of activity covered include sustainable territorial development engineering, public policies for territorial planning and local development, assessing public policies, strategies, and tools for managing land, and preserving and promoting local resources and culture.
Programs Taught on the Campus
Initial Education
AgroParisTech's Engineering Program
Ph.D. programs associated with 3 Doctoral Schools 
ABIES Doctoral School, AgroParisTech, Paris; 

Legal, Political, Economic and Management Sciences Doctoral School (SJPEG), Clermont-Ferrand; 

Doctoral School of Humanities and Social Sciences, Clermont-Ferrand.
Post-Master's and Executive Training
ACTERRA Specialized Master's Degree: "Government Action for Sustainable Territorial and Agricultural Development";

Continuing education programs in the fields of territorial development and territorial planning: land issues, joint territorial assessments, agricultural and food policy, etc.
Research – Joint Research Units and Research Laboratories Present on the Campus
The Territoires UMR (https://umr-territoires.fr/) is a joint research unit that brings together researchers from AgroParisTech, INRAE, VetAgro Sup, and the University of Clermont-Auvergne. 
Research conducted by AgroParisTech faculty and research staff as part of the unit's activities leverages the humanities and social sciences to analyze, evaluate, and engineer territorial development strategies, with a focus on the ways and conditions in which different stakeholders' activities can be coordinated. Their work falls within the APoG ("Joint Action, Public Policy, and Governance"), AVEC ("Support for Change"), and "Participation and Mobilization" research themes.
Specific Tools and Equipment on the Site
A 60-seat lecture hall; 

Classrooms equipped with video projectors; 

A library shared with INRAE that offers physical resources in the field of territorial development; 

Accommodations for learners in continuing education classes, students completing internships, Ph.D.'s, or postdoctoral programs, and student entrepreneurs working in the context of an InnLab.