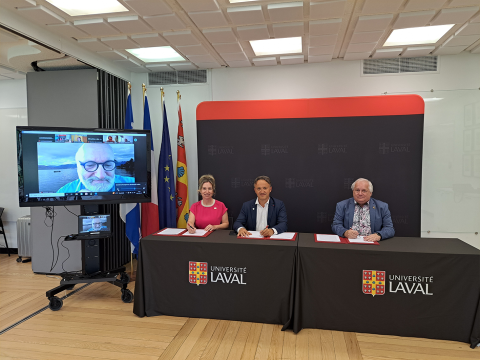 Research
France-Canada: A New International Associated Laboratory Dedicated to Animal Feed for Sustainable Livestock Farming
June 02 2023
On June 1, 2023, at Laval University (Quebec, Canada), Laurent Buisson, Managing Director of AgroParisTech, Philippe Mauguin, President and CEO of INRAE, and Eugénie Brouillet, Vice-Rector for Research, Creation, and Innovation at Laval University, announced the development of a new International Associated Laboratory for livestock nutrition and modeling for sustainable food systems (LIA Nutri-Mod). By combining the complementary skill sets of each of these partners LIA Nutri-Mod will work to foster the production of knowledge about feeding systems for monogastric animals, with the aim of improving the sustainability of livestock farming in both Europe and Canada.
An Innovative, Multifaceted Approach
"Animal feed is a key factor for the sustainability of livestock farming systems, especially in terms of the economic and environmental pillars of sustainability," said Agnès Narcy, a researcher at INRAE and co-director of LIA Nutri-Mod. "It also indirectly involves the social pillar of sustainability, since it has an effect on animal health and welfare, the quality and acceptability of animal products and production methods, and the role played by agricultural activities in their social environment."  
"In this context, the priorities are to identify the raw materials suitable for animal feed that do not compete with human food sources and that can be used sustainably, from production to waste recovery," said Marie-Pierre Létourneau-Montminy, co-director of LIA Nutri-Mod and professor at Laval University's Faculty of Agricultural and Food Science. "This requires the dual adaptation of animals and their diets in a wide range of production environments (development of nutritional strategies as an integral part of various livestock farming systems), as well as multicriteria methods to assess the performance of these systems involving the three pillars of sustainability."
The work carried out by LIA Nutri-Mod is a fundamental step toward the emergence of new recommendations for the development of precision livestock feed systems, which must cover the requirements shared by each of the two countries in the areas of:
The environment: preservation of non-renewable resources, waste control, and improved use of the soil-plant-atmosphere model;

Animal health and welfare;

Economic considerations.