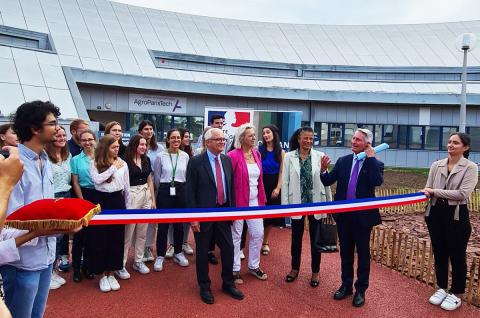 Inauguration
AgroParisTech Inaugurates its New Site in Orléans, France
September 14 2022
AgroParisTech's new site in Orléans was inaugurated this Wednesday, September 14, by Laurent Buisson, Managing Director of AgroParisTech, alongside Serge Grouard, Mayor of Orléans and President of the Orléans metropolitan area council, Florent Montillot, VP of the Orléans metropolitan area council in charge of research, technology transfer, higher education, the Orléans School of Art and Design (ESAD), and student life, Anne Gaborit, VP of the Loiret Departmental Council, and Régine Engström, Prefect of the Department of Loiret and the Centre-Val de Loire region. 
This brand new building, made available to AgroParisTech by the Orléans metropolitan area on the Orléans-La-Source campus, is home to AgroParisTech's new cosmetology program. 
Transforming Orléans into the Scientific Capital of Teaching and Research for Cosmetics
Following the fifteen students that signed up for the "Cosmetics Innovation Management" discovery module in March, seventeen third-year engineering students are heading to the Orléans metropolitan area and paving the way for the hundred or so students expected by 2027. 
With its Orléans branch, AgroParisTech's aim is to be as close as possible to businesses in the cosmetic sector and to carry out ambitious projects that meet the criteria of major French and European calls for projects. Beginning in September 2022, a third-year engineering major will be offered in Sustainable Cosmetic Design, Production, and Use (Cosm'Ethique).
This new major aims to satisfy demand from businesses for skills in the areas of biosourced materials and corporate social responsibility.
The building will also host teaching and research activities in Orléans, organized around the AgroParisTech Cosmetology Research Chair. This chair is supported by private benefactors, the AgroParisTech Foundation and the Shiseido group.The Chair's management is coordinated by AgroParisTech Innovation.Its goals?Strengthening local research and education in cosmetology, fostering growth in the cosmetics industry by producing world-class skills and expertise, speeding up innovation transfer between the Chair and the private sector, and positioning the Orléans region as a global leader in cosmetics.
Facilities Made Available by the Orléans Metropolitan Area
The Orléans metropolitan area has facilitated this project through the €1.3 million acquisition, in 2020, and the subsequent €3.3 million renovation of the former innovation center, which initially housed a digital business incubator.AgroParisTech's presence is part of the Orléans metropolitan area's overall strategy to develop its higher education offering.
The entire original structure was stripped down to create brand new spaces of 18,300 sq. ft. spread across two levels: the first floor is composed of research laboratories specialized in skin biology, sensory analysis, process engineering, physical chemistry, microbiology/biochemistry, and analytical chemistry.The second floor is devoted to offices and classrooms.
Through this project, the Orléans metropolitan area is showing its increasing support for the development of the cosmetics industry throughout the region, which will, in turn, offer considerable economic opportunities down the road.