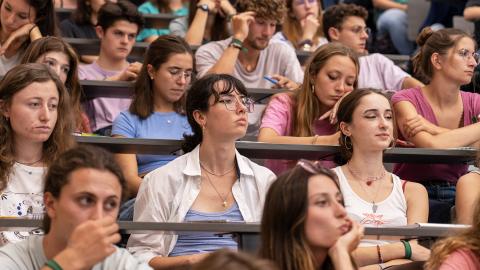 Student Life
Here's to a Wonderful New Academic Year!
September 06 2022
For over a week now, different members of our AgroParisTech community have been heading back to the classroom for the new academic year. Among them are our 3,000 or so initial and continuing education students (360 of whom are first-year students), apprentices, Specialized Master's students, and Ph.D. students, in addition to the 250 research, scientific and faculty staff members present across AgroParisTech's* eight sites throughout mainland France and the French overseas territories. There is, however, one particularity this year, which marks the first academic year for the Palaiseau campus. 
A New Campus for a New Academic Year!
The Agro Paris-Saclay campus, which now consolidates the activities of the four previous sites in the Paris region (with the INRAE campus as a partner organization), is composed of eight buildings with a total surface area of 710,400 sq. ft., surrounded by a wooded area spanning nearly 5 acres, thus offering the two partner organizations a home at the heart of the Paris-Saclay University ecosystem (in close proximity to CentraleSupélec, ENSAE Paris, ENS Paris-Saclay and the Institut Mines-Telecom, to name just a few)—a university of which AgroParisTech is also a founding member.
This is both a strategic and a historic choice, as highlighted by the Managing Director, Laurent Buisson, who gave his first welcoming speech for the new academic year at AgroParisTech:"Our arrival on campus marks the start of a new chapter in our institution's history.For you, as well as for all of our staff, this is an inaugural academic year on the Saclay plateau.This academic year represents an opportunity to bring together not only different graduating classes and departments from AgroParisTech, but also teaching, research, and innovation activities.
Reunions and a Reinvented Campus Lifestyle
AgroParisTech's Student Body Association (BDE), which organizes and coordinates activities and events throughout the year on campus, is eager to meet this challenge:"Saclay also presents an opportunity, together as a community, to build something new. You can be certain that our alumni from past graduating classes are doing everything they can to transform this new campus into a new home."
At the core of these reunions lie the ever-increasing challenges of our era: the causes and impacts of climate change, food-related transitions, the management and protection of biodiversity and natural resources, etc. The entire institution—from its research laboratories to its classrooms and its student groups—are working to overcome these challenges with shared drive and commitment.
For the Managing Director, these challenges can only be met by "furthering knowledge, acquiring new skills, developing new technologies, and disseminating new practices.
To each and every one of you: know that it isn't by chance that you've ended up here today."
* AgroParisTech is located across eight sites:the Agro Paris-Saclay campus, the Orléans branch campus (inaugurated on September 14, 2022), the Clermont-Ferrand campus, the Kourou campus, the Montpellier campus, the Nancy campus, the Reims campus, and the Grignon experimental farm.